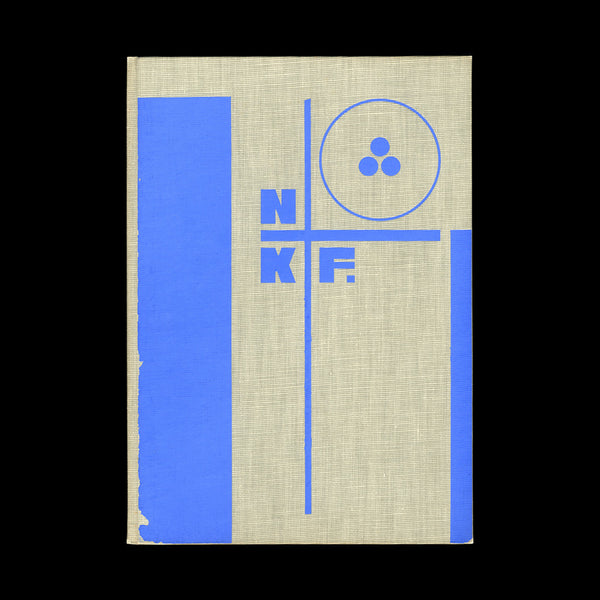 ZWART, Piet. NKF. Delft: N.V. Nederlandsche Kabelfabriek, [1928].
---
---
---
PIET ZWART'S MASTERPIECE
A LANDMARK OF TWENTIETH CENTURY TYPOGRAPHIC DESIGN

(ZWART, Piet).
NKF. Nederlandsche Kabelfabriek 1928-1929.
Delft: N.V. Nederlandsche Kabelfabriek, [1928].

4to (300 × 210 mm), pp.80. Black-and-white photographs, photomontages, and photograms, typography printed in red, yellow, blue, and black inks by letterpress. 5 pieces of coloured paper tipped on to p.19. Plain endpapers. Grey cloth-covered boards, sides stamped in blue; ink a little rubbed on front and rear. Aditional leaf printed recto only laid in as issued. Fine.

First edition, the rare hardcover issue of Piet Zwart's masterpiece, a landmark of twentieth-century typographic design.

Writing to a friend in 1926 about his current activities, Piet Zwart said, 'I also have much advertising work. I do this for relaxation. I have achieved quite something in this, especially for the Nederlandsche Kabelfabriek [Dutch Cable Factory] in Delft... Although these designs appear to be very simple things without much pretension, I find this work very important as a sign of our times... [I]t relates to my total perception of the mind and the tasks of this time period. It is a very multi-sided work. I am now working on a foreign catalogue for the NKF in which I am creating some very strange things.' He later wrote to his wife Nel that, 'There will be some significant things in it, and I am trying various experiments which, I think, have never been used in advertising.'

The NKF catalog was innovative in its form and space, but this inventiveness was designed to effectively present factual catalog information through lucid words and images. Zwart's Modernism was not about style or visual effects; rather, it was about innovating ways to engage the reader and effectively communicate messages.' It is divided into three parts: an introductory section devoted to photographs of the factory and providing general information, a central section showing close-up details of the workings of electrical and telephone cables, and finally a technical section.

Zwart held a profound concern for the reader and had strong views on the social role played by design, stating: 'Design is not a matter of taste but an expression of our attitude toward life... Design and use of material are not matters of individual whim, but responsible factors in the community.' He believed that the fast pace of twentieth-century life meant that people were denied adequate time to read and absorb large amounts of text. To counter this he incorporated a number of innovative techniques: 'White space, diagonal movements, and contrast of scale and weight were used to engage readers and propel them forward into the material. Static symmetrical balance was rejected; space was made active and fused into a dynamic whole. Copy was stripped to its essence... His designs for NKF, including the catalog, achieved a remarkable functional vitality and are an historically important expression of a dynamic age of change' (Meggs).

Cohen, A., Herbert Bayer and Piet Zwart: Masters of Design (Ex Libris catalogue); Meggs, P., 'Piet Zwart's NKF Catalog', Print, March/April 1996; Fernandéz, H., Fotografia Pública: Photography in Print 1919-1939 pp.262-264 (English edition); Roth, A., The Open Book (wrappers).


---
Share this Product
---