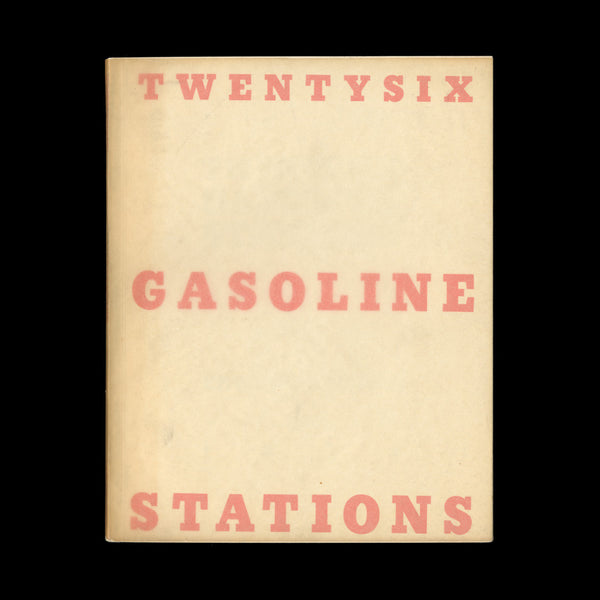 RUSCHA, Edward. Twentysix Gasoline Stations 1962. (Los Angeles): (A National Excelsior Publication [privately printed]), (1963). SIGNED
---
---
---
FIRST EDITION OF 400
SIGNED COPY
RUSCHA, Edward.
Twentysix Gasoline Stations 1962.
(Los Angeles): (A National Excelsior Publication [privately printed]), (1963).
8vo (179 x 140 mm), pp.[48]. 26 black-and-white photographs. White printed wrappers, text in red. Glassine dust-jacket; lightly toned, more so at spine, tiny chip at head and pinprick to spine. Signed and dated 1966 in blue ink by Ruscha to dedication page. Numbered in red ink to limitation page. Faint strip of toning to bottom edge otherwise fine in a near-fine dust-jacket.
First edition, one of just 400 copies of the first and most important book in 'the most renowned series of artist's books in the history of the genre' (The Photobook). This copy signed and dated by Ruscha in 1966.
Twentysix Gasoline Stations
was published 1963, the year that he staged his first solo exhibition at Ferus Gallery, Los Angeles.
'With his first book, Ruscha established a new paradigm for artist's books that stood in opposition not only to hand-printed books but also to the livre de luxe common earlier in the century... By contrast, here was a book - primarily visual, comprising nondescript photos of gas stations, assembled by a visual artist, printed carefully but not slickly, and susceptible to reprinting - that could slip into any bookstore, or pocket, and be marketed like any other paperback. The fact that Ruscha also quickly abandoned the initial numbering or signing of his books further separated them from the tradition of "fine press" and luxury books.
Reflecting on the achievement of
Twentysix Gasoline Stations
ten years after publication, Ruscha said, "I realized for the first time that this book had an inexplicable thing I was looking for, and that was a kind of a 'huh?' That's what I've always worked around. All it is is a device to disarm somebody with my particular message" (Phillpot p.61).
S. Engberg and C. Phillpot, Edward Ruscha: Editions 1959-1999. Catalogue Raisonne (B1); Leave Any Information at the Signal: writings, interviews, bits, pages; The Open Book 198-9
---
Share this Product
---