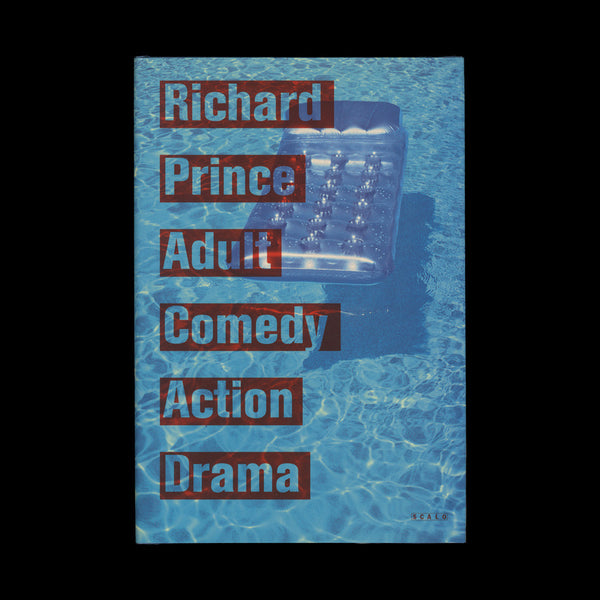 PRINCE, Richard. Adult Comedy Action Drama. Zurich, Berlin and New York: Scalo, (1995).
---
---
---
VIDEODROME
PRINCE, Richard.
Adult Comedy Action Drama.
Zurich, Berlin and New York: Scalo, (1995).
4to (290 × 194 mm), pp.240. 235 colour photographs, design by Hans Werner Holzwarth. Blue endpapers. Blue paper-covered boards, spine printed in grey. Photo-illustrated dust-jacket. Fine.
First edition.
Adult Comedy Action Drama
is an autobiographical tour through many examples of Prince's artistic practice, including his appropriated cowboy and biker's girlfriend photographs, joke paintings, and drawings. Photographs of these are mixed with pictures of items from his own collection of books, magazines, other people's photographs, and other recent purchases. Photographs are of a central importance to much of Prince's work; on two occasions he has briefly held the record for the most expensive photograph sold at auction, yet he views them as a means rather than an end. In a 1984 interview he stated, 'I've always associated a photograph with the Perry Mason Show. You know something that can be used as admissible evidence. Something that can be believed. It's unimportant whether it's true. It's only that its truth be possible. That's what the virtuoso real is. The possibility' (Halley 5).
Halley, P., 'Richard Prince',
ZG
, 10 (1984), pp.5-6; Roth A.,
The Book of 101 Books: Seminal Photographic Books of the Twentieth Century
pp.274-5; Auer, M. and M.,
802 photo books from the M + M Auer collection
p.727.
Click here to view all items in the 'Moral Tales for Young Artists' list
---
Share this Product
---