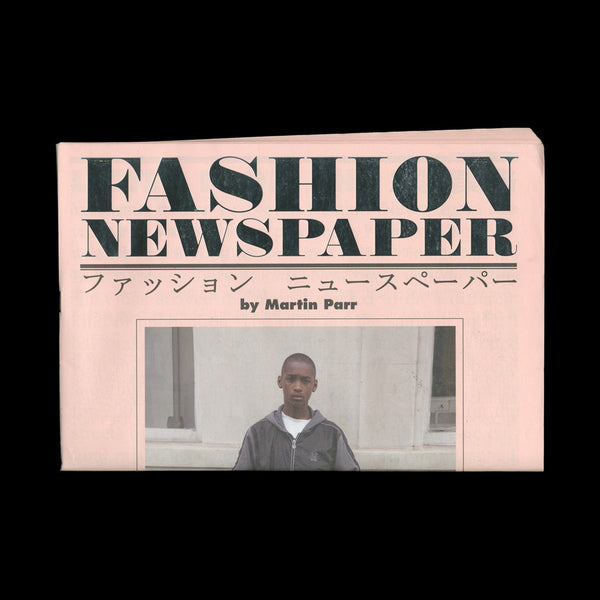 PARR, Martin. Fashion Newspaper. (Paris: Magnum Photos, 2007).
---
---
---
AN ASSOCIATION COPY OF SORTS
PARR, Martin.
Fashion Newspaper.
(Paris: Magnum Photos, 2007).
Saddle-stapled folded tabloid newspaper (418 x 304 mm), pp.64. 57 colour photographs. Design by Christoph Renard. Title foil-blocked in silver. This copy inscribed 'to Ordinary from Obvious [Obvious and Ordinary stamped in black ink]'. Parr has added in blue ink the word 'lies' under the the Ordinary stamp and 'trust' above the Obvious one. Folded as issued. Fine.
First edition, an association copy of sorts, apparently inscribed by Parr to Gossage using the pseudonymous stamps with which they signed copies of their collaborative book
America 2006
(2007). Gossage laughed when he first saw the inscription, then denied all knowledge of the project, then plotted further mischief.
[Together with:]
[PARR, Martin and John Gossage]. Obvious & Ordinary.
America 2006.
[London]: [Rocket Gallery], [2007].
4to (273 x 215 mm), pp.[72]. Colour and black-and-white photographs. Printed saddle-stapled wrappers. Signed with 'Obvious' and 'Ordinary' stamps in black ink to title-page. Fine.
First edition. These photographs were apparently taken during a trip to Memphis to meet William Eggleston. 750 copies were distributed in Europe and 750 in the United States. The artists would only sign copies using the aforementioned stamps.
Click here to view all items in the 'Moral Tales for Young Artists' list
---
Share this Product
---