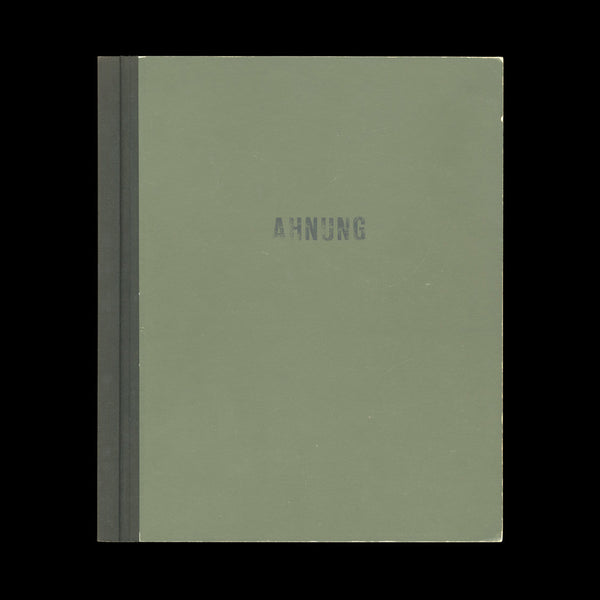 HEINZE, Volker. Ahnung. (Berlin): Dirk Nishen (Museum Folkwang Essen and Museum Für Gestaltung, Zurich, 1989). PRESENTATION COPY
---
---
---
PRESENTATION COPY
HEINZE, Volker.Ahnung [Foreboding].
(Berlin): Dirk Nishen (Museum Folkwang Essen and Museum Für Gestaltung, Zurich, 1989).
4to (300 × 252 mm), pp.[28]. 16 colour photographs. Green paper-covered boards, title to upper side in black, black cloth spine; spine very lightly sunned, boards lightly rubbed and marked, corners bumped. Inscribed by Heinze in black ink to second page. A very good copy.
First edition of 800 copies, inscribed to Peter Fraser, of one of the key European photobooks of the 1980s. In 1987 Fraser and Paul Graham drove together to Hannover, Germany where they were both included in a group exhibition curated by Thomas Weski at the Sprengel Museum's Spectrum Galerie. It was on this trip that Fraser also met Volker Heinze and Michael Schmidt for the first time. Ahnung is one of a number of important bodies of work that were informed by the exchanges that took place at the Werkstatt für Fotografie, a collective led by Michael Schmidt and based at the Volkshochschule, Kreuzberg in Berlin. Schmidt invited a number of American photographers such as William Eggleston, Larry Clark, Lewis Baltz, and John Gossage to Berlin where they made work and gave workshops.
Made in the wake of the fall of the Berlin Wall, Ahnung is concerned with 'the sense of uncertainty that the advent of this brave new world might generate, and also about how colour photographs can be made to reflect feelings rather than just documenting the superficial aspect of things'.
The Photobook: A History vol. II 66-7.
Click here to view all items in the 'Moral Tales for Young Artists' list
---
Share this Product
---