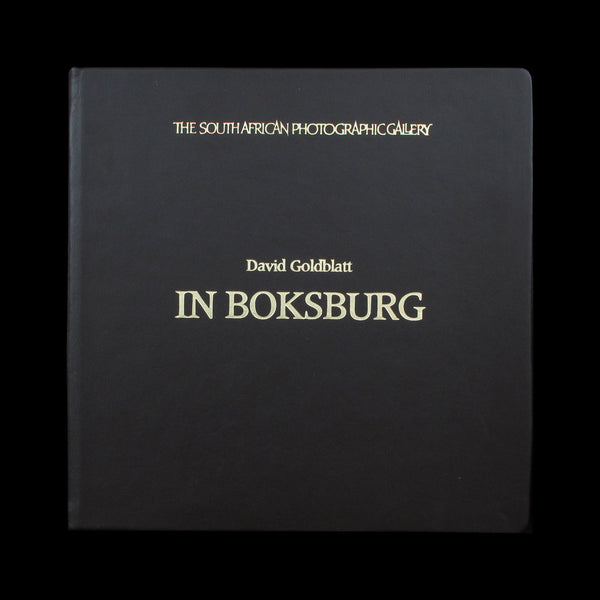 GOLDBLATT, David. In Boksburg. Cape Town: The Gallery Press, (1982). SPECIAL EDITION
---
---
---
ONE OF 50 SIGNED AND NUMBERED COPIES OF THE SPECIAL EDITION
GOLDBLATT, David.
In Boksburg.
Cape Town: The Gallery Press, (1982).
4to (279 × 284 mm), pp.[84]. 73 black-and-white photographs; light staining to corner of first two leaves. Black endpapers. Brown morocco, spine and front board stamped in gilt; impression marks in leather particularly to rear board, light rubbing, boards lightly bowed. Signed and numbered by Goldblatt in black ink to half-title. Very good.
First edition, no.46 of 50 signed and numbered copies bound in leather, of this photographic essay on life in Boksburg, a small, middle-class, white, South African mining town close to Johannesburg. Goldblatt notes the 'homogenisation' of such communities in South Africa and remarks that photographs from other towns of comparable size would not have differed greatly from these. 'Blacks are not of this town. They serve it, trade with it, receive charity from it and are ruled, rewarded and punished by its precepts. Some, on occasion, are its privileged guests. But all who go there, do so by permit or invitation, never by right.' These photographs were originally intended to be used in
Optima
magazine to accompany an essay on the relationship between Afrikaans and English speaking whites but were rejected after a change of editor. It was partly this that prompted Paul Alberts, a close friend of Goldblatt, to set up the Gallery Press to address the lack of opportunities for the publication of books of new documentary work in South Africa. It was Alberts plan to form an archive of South African photography comprised of the prints used to produce each of a series of publications. His intention was to offer the books directly to customers by mail-order campaigns, so as to avoid the traditional route which would have meant selling the book at heavily discounted prices to bookshops and distributors. Despite his best efforts the venture failed after publishing this, the first book. Scarce.
The Photobook: A History vol. II 114-5; 802 Photo Books from the M + M Auer Collection 643; Errata Editions: Books on Books no.7 [none of which mention the existence of the special edition]
---
Share this Product
---