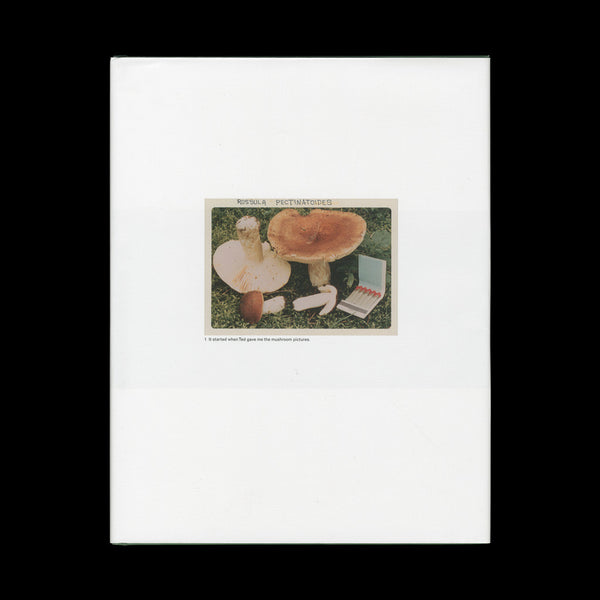 FULFORD, Jason. (The Mushroom Collector). [Amsterdam]: (The Soon Institute), (2010).
---
---
---
(FULFORD, Jason).
(The Mushroom Collector).
[Amsterdam]: (The Soon Institute), (2010).

4to (310 × 240 mm), pp.[192]. 110 colour photographs (incl. covers). Edited by Lorenzo De Rita. Purple endpapers. Green cloth-covered boards, spine lettered in black, design stamped to front in black. Colour photo-illustrated dust-jacket, white, text in black. Fine.

First edition. Fulford discusses the genesis of The Mushroom Collector in an interview with Aaron Schuhmann in the Summer 2012 issue of Aperture: 'A few years ago, my friend Ted Fair found a manila envelope at a flea market in Manhattan. Inside were eighty-nine color photographs of wild mushrooms. He gave them to me and I loved them. I took them out every couple of weeks, spread them out on a table, then packed them up again and put them into a drawer. A year later, going through recent contact sheets, I noticed that a relationship had been growing between the mushroom photographs and my own photographs, without my realizing it. That moment of realization was the initial spark for this project. When art succeeds, I think, it stays alive this way—an idea or a sensibility or perspective is passed on from one person to another, and in the process, it changes a little... In this case, there was a linear thread. An evolution. And it was personal. The structure became apparent when I studied the mess; the challenge was how to communicate that structure to an audience. The visual sequence for The Mushroom Collector was determined first, and was quite abstract. To soften this and add another layer, I wrote a text that reaches out to the reader on page one and leads you through in a more personal way.'

Parr, M., and Badger, G., The Photobook: A History Vol. III p.306.
---
Share this Product
---