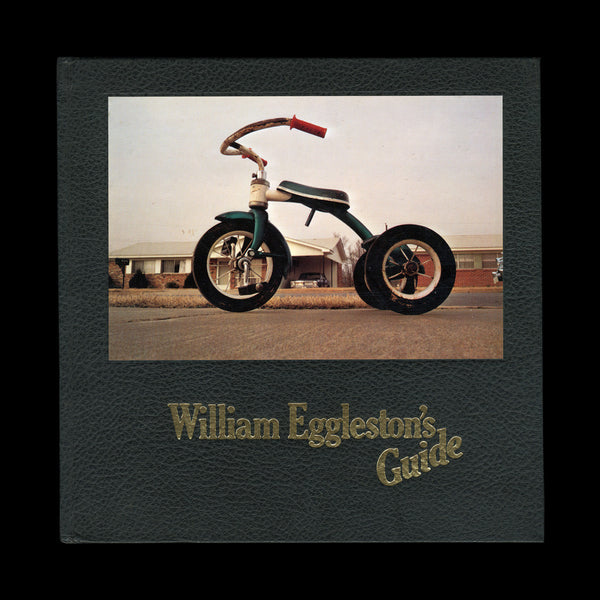 EGGLESTON, William. William Eggleston's Guide. New York: The Museum of Modern Art, 1976.
---
---
---
EGGLESTON, William.
William Eggleston's Guide.
New York: The Museum of Modern Art, 1976.

8vo (228 × 228 mm), pp.112. 48 colour photographs and 1 black-and-white portrait of Eggleston. Essay by John Szarkowski. Black endpapers. Black leatherette-covered boards, spine and upper side lettered in gilt, colour photographic reproduction affixed to a debossed panel on front; foxing to page edges. Foot of spine slightly skewed. Near-fine.

First edition. The adoption of colour photography, in the late 1960s and early 1970s, by William Eggleston, Stephen Shore, and others was not without precedent. Nonetheless, perhaps because of its commercial associations, colour photography had been slow to find acceptance in the art world. Eggleston's solo exhibition in 1976 had the distinction of being the first exhibition of colour photography at the Museum of Modern Art, New York. As such, it and this catalogue which accompanied it are often credited with legitimatising colour photography for the serious American museum-attending audience. Szarkowski noted Eggleston's 'ability to monumentalize the minutiae of mundane life' and boldly declared that 'as pictures, these seem to me to be perfect.' To which New York Times art critic Hilton Kramer responded, 'Perfect? Perfectly banal, perhaps. Perfectly boring, certainly.'

Sinibaldi, A. and Couturier, J-L., Regards sur un siècle de photographie à travers Le Livre (152); Roth A., The Book of 101 Books: Seminal Photographic Books of the Twentieth Century pp.234-5; Parr, M. and Badger, G., The Photobook: A History vol.II p.265; Roth, A., The Open Book: A History of the Photographic Book from 1878 to the Present pp.308-9; 802 photo books from the Auer collection p.598.
---
Share this Product
---