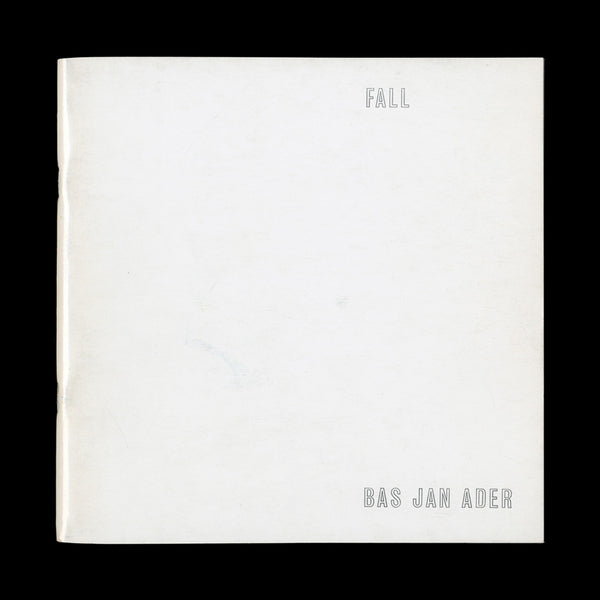 ADER, Bas Jan. Fall. [Los Angeles]: [privately printed], [1970].
---
---
---
'THE ARTIST'S BODY AS GRAVITY MAKES ITSELF ITS MASTER'
ADER, Bas Jan.
Fall.
[Los Angeles]: [privately printed], [1970].
Square 8vo (190 x 190 mm), pp.[48]. 22 black-and-white photographs. Printed saddle-stapled glossy wrappers, white, text in black; light handling marks, light wear to spine and edges. Near-fine.
First edition. Bas Jan Ader was born in Winschoten, the Netherlands in 1942. After studying at the Gerrit Rietveld Academy (then called the Instituut voor Kunstnijverheidsonderwijs) in Amsterdam, he spent some time travelling before he settled in Los Angeles in 1963.
Fall
contains a sequence of stills taken from two of Ader's short films, which were both made in 1970, one in his adopted home and the other in his native country. Ader described them as depicting, 'the artist's body as gravity makes itself its master.' The first sequence is from the film
Fall 1
, which was made in Los Angeles. The opening image is of Ader sitting on a chair on the roof of his bungalow, the subsequent photographs show him rolling down the roof, over the ledge, and into the bushes below. The second sequence is from
Fall 2
, which was made in Amsterdam. Here we see he Ader cycling along the Reguliersgracht canal, then ride over the edge and into the water. With one fall in his adopted home and one in his native country. Each illustrates Ader's interest in succumbing to forces beyond his control.
In 1975 Ader included a series nocturnal photographs made during a walk from the Hollywood Hills to the ocean at an exhibition at the Claire Copley Gallery, Los Angeles called 'In Search of the Miraculous'. On the opening night he arranged for a small amateur choir to sing six sea shanties. Shortly after the opening Ader set out from Cape Cod to cross the atlantic on his own in 'Ocean Wave', a twelve and a half foot sailboat. Upon his planned arrival in Europe, he intended to make another series of photographs, and the shanties were to have been performed by a local choir when the work was to be exhibited at the Groninger Museum, Groningen.
Ader never completed the project, as he never reached his destination. Nine months after his departure, his damaged boat was found off the coast of Ireland, with Ader lost at sea.
C. Cherix, In & Out of Amsterdam: Travels in Conceptual Art, 1960-1976, p.54
Click here to view all items in the 'Moral Tales for Young Artists' list
---
Share this Product
---