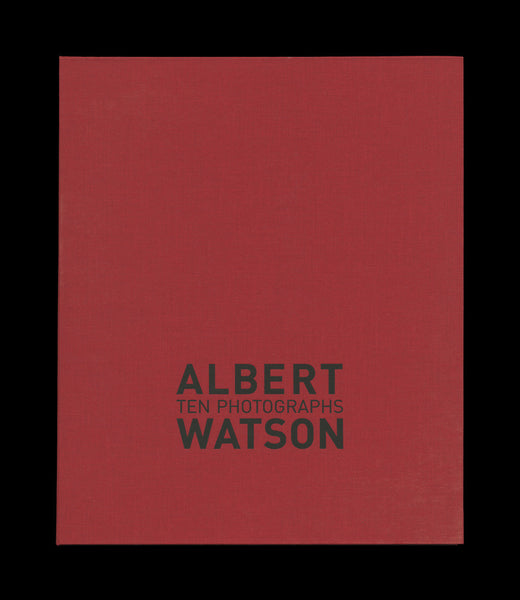 WATSON, Albert. Ten Photographs. [N.p]: [Self-published], (2007).
---
---
---
EDITION OF 300 SIGNED BY ALBERT WATSON

WATSON, Albert.
Ten Photographs.
[N.p]: [Self-published], (2007).
12 plates (330 × 270 mm), title sheet, 8 black-and-white and 2 colour photographs printed in offset, text sheet. Black paper guards. Design by Thomas Defays. Signed and numbered by Watson in black ink on title sheet. Red cloth-covered board portfolio case, titled in black on front. Fine.
First edition of 300 signed copies. Albert Watson is among the most successful fashion and commercial photographers working today. He has contributed over 250 covers of Vogue as well as most of the other leading publications, and created advertising campaigns for major corporations, including the Gap, Levi's, Revlon, and Chanel, as well as some 500 television commercials. He was born and raised in Scotland, and has been blind in one eye since birth. After studying graphic design at the College of Art in Dundee and film at the Royal Academy of Art in London, in 1970 he moved to the United States with his wife Elizabeth, and began taking photographs. Ten Photographs includes some of his most well-known work.
Click here to see all items in the 'Till I Get it Right' list
---
Share this Product
---