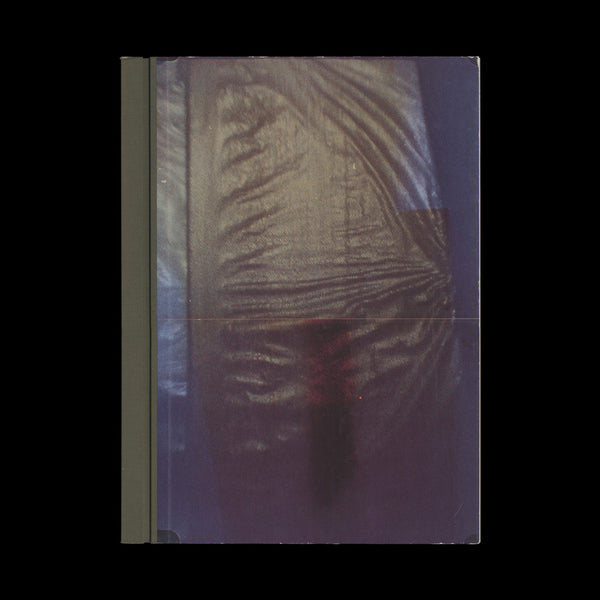 OGLESBY, Bernard. From the Emblems and Devices of Love. [N.p]: (Bauer Editions) [self-published], [1994]. PRESENTATION COPY
---
---
---
PRESENTATION COPY



OGLESBY, Bernard.
From the Emblems and Devices of Love.
[N.p]: (Bauer Editions) [self-published], [1994].
Folio (454 × 333 mm), pp.[22]. 15 colour and 2 black-and-white photograph. Dark grey endpapers. Colour photo-illustrated paper-covered boards, green cloth spine; wear to edges. Bernard Oglesby's presentation inscription in black ink to rear pastedown. Very good.
First edition of 500 copies, a presentation copy inscribed to Peter Fraser: 'To Peter / all the best for the future / Bernard'. In all likelihood from the first printing of 50 copies which were distributed by Oglesby to friends and collectors, subsequently the book was distributed by Cornerhouse.
Bernard Oglesby was born in 1962 in Dublin. After initially training to become a priest in 1977, he left the monastery and began an apprenticeship to become a church leadlight window designer. In 1985 he began studying at the West Surrey School of Art and Design, where he studied with Martin Parr and Paul Graham. He has exhibited in the UK and internationally, and his practise now involves film, sound, and music as well. Oglesby has described his work as a prolonged meditation on the apprehensible nature of intimacy. Whether through music, sound, film or photography his concerns remain the same, those of death and the passage of time. This large format book is bound in the same way as Volker Heinze's Ahnung (1989), and isn't entirely disimilair in tone, however, when asked Oglesby said that he did not know the earlier book.
Click here to see all items in the 'Till I Get it Right' list
---
Share this Product
---