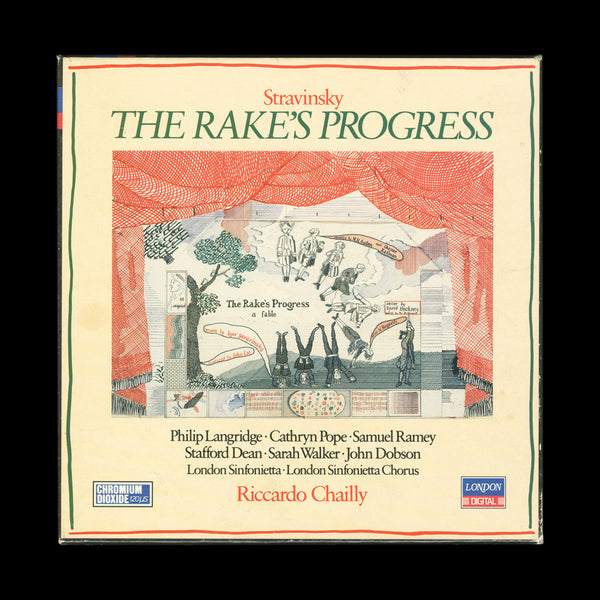 HOCKNEY, David. Stravinsky. The Rake's Progress... London: The Decca Record Company Limited, 1984. ASSOCIATION COPY
---
---
---
GIVEN BY HOCKNEY TO MO McDERMOTT


[HOCKNEY, David].
Stravinsky. The Rake's Progress...
London: The Decca Record Company Limited, 1984.

Two cassette box set. Illustrated paper covered board box (232 × 232 mm) with moulded plastic tray; wear to edges and corners. Two audio cassettes. 52pp saddle-stapled booklet. Inscribed by Hockney to Mo McDermott in red and black ink to inside of box lid. Very good condition.

The inscription reads, 'for / Mo / who assited ['s' inserted after] / on a production of / this lovely work / [signed] David H'. The inserted 's' mirrors the way that McDermott was credited by Hockney in artwork used for the performance which is reproduced on the cover of the box.

Mo McDermott was a friend of David Hockney and also assisted him in the studio. It was he who introduced Hockney to Celia Birtwell, and Birtwell to her future husband and creative partner Ossie Clark. The four went on to stage the 'Northern Invasion' of Swinging London in the 1960s.

'For myriad reasons McDermott [became] an integral part of Hockney's life. To begin with he was stylish and had an eye for what was good. "I once took Mo to visit Freddie Ashton," Hockney recalls. "He saw two marble obelisks on Freddie's mantelpiece. The next day I was at his flat in Ladbroke Grove and I saw these two obelisks, and when I got close to them I noticed they were made of cardboard ... He'd just copied them. Mo could make anything and I quickly saw that". He was extremely practical, if occasionally a little undisciplined, and a talented artist himself, which made him a valuable studio assistant. He had also created his own business making and selling decorative trees and flowers' (Hockney: The Biography, Volume 1. Random House, 2011 p.293).

John Cox approached Hockney to design the set for his 1975 performance of 'The Rake's Progress' at Glyndebourne. He was already aware that Hockney had produced his own version of Hogarth's 'A Rake's Progress' in the early-1960s, based on his experiences of his first visit to New York. Cox instinctively felt that Hockney would be at ease with the intellectual and moral problems within the piece. Mo McDermott's assistance proved to be invaluable as he had previously worked for the celebrated theatre designer Ralph Koltai and understood the process by which ideas on paper are translated into reality.
Click here to view all items in the 'Possible Starting Points' list
---
Share this Product
---