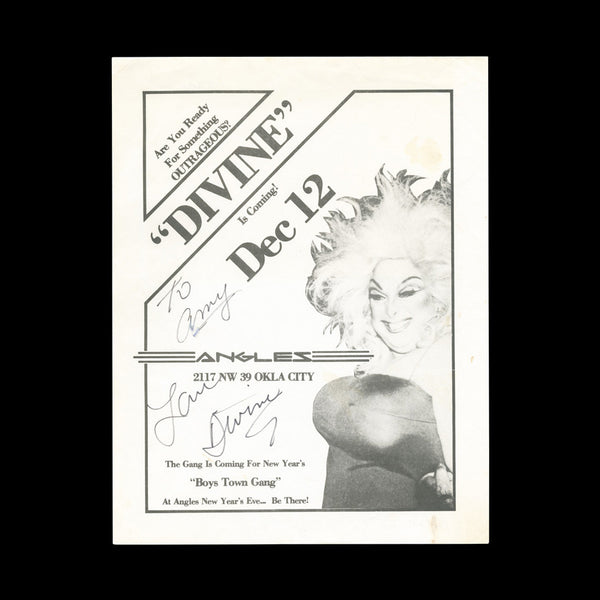 DRAG QUEENS - Photographs and ephemera. c.1900s-1980s.
---
---
---
A SMALL COLLECTION OF DRAG QUEEN AND FEMALE IMPERSONATION PHOTOGRAPHS AND EPHEMERA


[DRAG QUEENS].
Photographs and ephemera.
c.1900s-1980s.This small collection comprises 13 original photographs, 2 postcards, 2 flyers, a lobby card and a folding programme, full details are below.

Fernando, Intern[ational]. Soubretten - Darsteller.
Leipzig: Dr. Trenkler Co., [c.1905].

Uncirculated original post card (139 × 90 mm), two black-and-white photographs and decorative border printed in collotype to recto, divided and printed to verso; lightly marked. Near-fine condition.

This card depicts Fernando performing as a soubrette.


Louis Vernassier l'homme-protée musical excentrique dans son Travesti-Dame.
[Paris: n.p, c.1907].

Uncirculated original postcard (140 × 90 mm), black-and-white photograph printed in offset to recto, divided and printed to verso; lightly soiled. Very good condition.

This postcard depicts multi-instrumentalist female impersonator Louis Vernassier. The full text in the image lists her talents: 'Louis Vernassier, l'homme protée musical excentrique dans son travesti-dame jouant : violon, manodline, mandole, violoncelle, piano, contrabasso, guitare, xylophone, grelots, saxophone, harpe, cuivres, etc. & tous instrument excentriques'.


Portrait of Theodore Hardy.
[c.1920s].

Gelatin silver photograph (253 × 203 mm); handling marks and silver mirroring, light wear to corners, crease to bottom right corner in margin, tear to top right corner in margin, mottled staining to verso. Annotated and possibly signed by the subject in pencil to verso 'Theodore Hardy / "Female Impersonator"'. Very good condition.

Hardy's outfit and pose are reminiscent of the round of Tutmania that swept the globe following the discovery of Tutankhamun's tomb in the Valley of Kings in November 1922.


Portrait of Francis Renault by Herbert Mitchell, NY.
c.1930.

Gelatin silver photograph printed on textured paper (253 × 202 mm); light wear to corners, silver-mirroring at image edges, minor staining to verso. Signed in the negative by the photographer. Inscribed by the subject in black ink diagonally across the lower half of the image. Very good condition.

The inscription reads 'For / [...] / You are an / artiste to your / finger tips / Sincerely / Francis / Renault / 1930'.

Francis Renault was one of the leading performers of her day, and was purportedly a lover of a number of Hollywood's leading men. In later advertisements she was billed as 'America's Greatest Living Satirist', and elsewhere as 'The Last of the Red Hot Papas'.

Herbert Mitchell was one of the leading portrait photographers on Broadway during the 1920s-'30s. During World War II he left the photography business and concentrated his efforts on the war effort, working for the government and helping to develop the fledgling U.S. electronics industry. Promotional material for his unpublished autobiography gives his account of these and many other accomplishments, which include: animating cartoons before Walt Disney; establishing the idea of theatre restaurants; pioneering the use of celebrity endorsements by celebrities; personally introducing Cuban Rhumba music to the United States; paving the way for the space age through his role in the electronics industry; becoming a 'finder and deal maker who over the years has been involved in some of the country's largest corporate mergers and acquisitions'; and was involved in massive litigation and lengthy legal entanglements that made history in the law journals of a half dozen states.


Portrait of Bobby Jonson by Maurice Seymour, Chicago.
[c.1943].

Gelatin silver photograph (255 × 207 mm); signed in the negative by the photographer, pencil annotations, light marks, Maurice Seymour stamp, and a San Francisco Examiner usage stamp and newspaper clipping with the caption 'Bobby Jonson Toe Dancing Star at Finocchio's' to verso, lightly retouched, cockling, crease to bottom left tip. Very good condition.

Maurice Seymour was actually two people, brothers Maurice (Moise) and Seymour (Simche) Zeldman. They arrived in Chicago from Russia in 1920 and formed Maurice Seymour Studios in 1929. They were based in the St. Clair hotel and specialised in celebrity and entertainment photography, the theatrical and ballet. Later, when Seymour Zeldman decided to move to New York in the 1950s, both brothers legally changed their name to Maurice Seymour and continued to work individually under that name in Chicago and New York.

Seymour Zeldman's first born son was Danny Seymour who became friends with Robert Frank when he lived above him in an apartment on the Bowery during the late 1960s. They had a close friendship and Seymour would often assist Frank on his films. At the age of 21 Danny Seymour had inherited a large amount of money from his mother Isabella Stuart Gardner, which according to Ralph Gibson 'he was trying to spend as quickly as possible, which he did.' Seymour met Gibson through Robert Frank and Larry Clark and went on to pay for Gibson's Lustrum Press to print Clark's first book Tulsa (1971). Seymour's own book, a photographic autobiography called A Loud Song, was printed at the same time as Tulsa. A Loud Song includes his own photographs as well as some of those taken by his father. In 1972 Seymour disappeared from a boat on route to the United States from Colombia and was never found.


Los Castillo.
[c.1960s].

Two gelatin silver photographs (255 × 202 mm); light wear to corners and edges of both, one has a crease to the bottom left corner, the other has a crease to top corners. Both are annotated in ink on verso with the remnants of a paper label and lightly marked. Some spots contemporaneously retouched. In very good condition.

We are informed that 'Los Castillo' were a drag act that were active from the 1960s onwards, though the photographs and annotations look much earlier. One is a studio portrait, the other is a copy photograph of a photomontage showing the character in and out of costume.


Bobbie in drag.
c.1950-1970.

5 gelatin silver and three c-type photographs (126 × 89 mm). Fine condition.

In 1963 Bobbie was the cover girl for issue 22 of Virginia Prince's magazine Transvestia, which also featured the article 'Bobbie Goes Private', where she gives her age as 53 and states that earlier in life she had considered living as a woman full-time. 'If I had no family or other responsibilities I might very well yield to Bobbie... But under the circumstances I cannot bring myself to this. Instead I have come to recognize that Bobbie is a real and vital part of a multi-faceted personality and to treat her as such. I intend to live out the rest of my life philosophically taking things as they are and not be continually alternating and yielding to the fact of resisting what God did for me... I can sum it up by saying, "As a man I exist: as a woman, I live".'


Folding card programme; lobby card for Maria Montez. The Latin Lovely from the Blue Dahlia. Happy New Year 1971.
Chicago: The Blue Dahlia, [late-1960s]; 1971.

Lobby card (405 × 254 mm), black-and-white photograph and surrounding design in black; lightly toned, a few tears to edges creasing to top edge [Together with:] a tri-folding card programme (395 × 152 mm), illustrated with black-and-white photographs; lightly toned, a few tears and creases. Very good condition.

The Blue Dahlia was an allegedly mob-run club named after the nightclub in the film The Blue Dahlia (1946). A Paramount executive reportedly told Chandler, who wrote the screenplay, that he loved the homosexual angle - referring to two of the characters Buzz and George who lived and ate meals together - this annoyed Chandler as it was an assumption that some critics had also assumed regarding the relationship between Walter and Keyes in Double Indemnity (1944).


Miss Charity Case.
[N.p: n.p, c.1980s].

Photographic handout (254 × 203 mm), black-and-white photograph printed in offset with title to lower margin in black; light handling marks, light staining to one corner. Inscribed by Miss Case in black ink within the image, 'To Amy / your one of / kind I / love ya / Charity'. Near-fine condition.

Charity Case began her career in the early-1980s in Kansas City. Among her many awards in the various pageant systems are: Kansas City Discovery; Miss Gay Missouri; Miss Gay Midwest; Miss Gay Illinois; Miss Heart of America, Miss Gay Southwest; Miss Central States; Miss Mid-States; Miss Missouri; Miss Midwest; and in 2001 she was crowned Miss Gay America.


Are You Ready For Something Outrageous? "Divine" Is Coming! Dec 12. Angles 2117 NW 39 Okla City...
Oklahoma City: Angles, [c.1982-84].

Original flyer, US Letter (279 × 216 mm), black-and-white photograph, text in black, printed in offset; lightly toned, handling marks and creasing to corners, lightly stained. Inscribed in black ink, 'To / Amy / love / Divine'. Very good condition.

Angles was a state of the art high energy gay dance club. It opened in 1982 to packed crowds and saw public appearances from a number of high-profile acts. It also drew the attention of the local police who repeatedly cited violations and intimidated patrons, physically abusing them on repeated occasions. In February of the following year the owners filed a federal lawsuit against Oklahoma City and certain members of its police department. The lawsuit was settled out of court with the City agreeing to pay costs of $28,000 and damages of just $1, however they also agreed to make changes and to provide members of the police force with gay-awareness training and for a permanent injunction preventing the Oklahoma City police from coming on to N.W. 39th St and harassing the gay community. It was a pivotal moment for Oklahoma's gay and lesbian community.
Click here to view all items in the 'Possible Starting Points' list
---
Share this Product
---