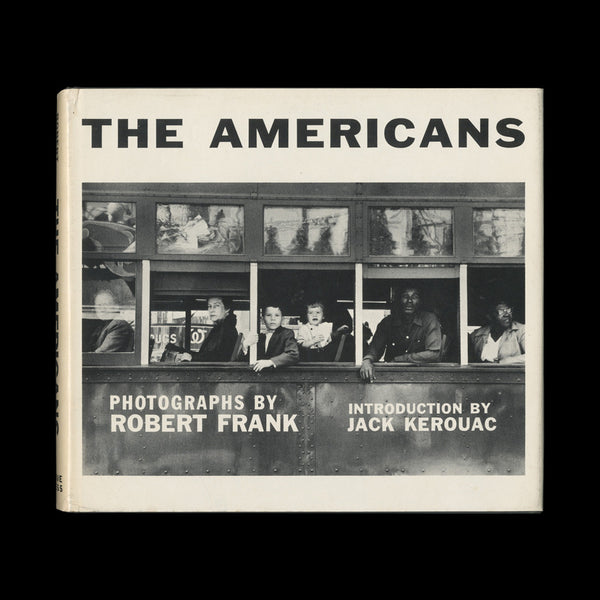 FRANK, Robert. The Americans... New York: Grove Press, Inc., 1959.
---
---
---
A VISUAL STUDY OF A CIVILISATION
FRANK, Robert.
The Americans... Introduction by Jack Kerouac.
New York: Grove Press, Inc., 1959.

Oblong 8vo (183 × 207 mm), pp.[iv], vi, [170]. 83 black-and-white photographs printed in gravure; light spotting to top edge. Plain endpapers; minor offsetting from jacket. Black cloth-covered boards, spine lettered in gilt. Black-and-white photo-illustrated dust-jacket, white, text in black; black, red, and white collage by Alfred Leslie on the lower panel; spine and covers very lightly toned, short closed tear to top edge of front and rear panels, minor rubbing to spine and edges. Fine in a near-fine dust-jacket, scarce as such.

First American edition of Frank's masterpiece, following Robert Delpire's Les Américains published in France the previous year. It follows a careful and complex sequence, with four chapters each introduced by a photograph of the American flag. In his successful application for the Guggenheim grant that allowed him to make this work Frank wrote: 'The project I have in mind is one that will shape itself as it proceeds… The material is there; the practice will be in the photographer's hand, the vision in his mind.' Between April 1955 and June 1956 he set out on a series of trips across America. His aim was to complete a body of work that would be 'a broad, voluminous picture record of things American, past and present… A visual study of a civilisation'.

For this, the defining edition, Frank stripped the texts which appeared opposite the photographs in Delpire's edition and added an introduction by Jack Kerouac, who writes, 'What a poem this is, what poems can be written about this book of pictures some day by young new writers.... Whether 'tis the milk of humankind-ness, or human-kindness, Shakespeare meant, makes no difference when you look at these pictures. Better than a show... Robert Frank, Swiss, unobtrusive, nice, with that little camera that he raises and snaps with one hand he sucked a sad poem right out of America onto film, taking rank among the tragic poets of the world.' Like Vladimir Nabakov, Frank saw 1950s America as no American could have seen it, 'the loneliness, alienation, rootlessness, and sadness of automobile-happy mid-century America'. David Levi Strauss referred to the French edition as sociology, whereas the American edition is poetry. And as Kerouac writes 'Anybody doesn't like these pitchers don't like potry, see?'

With this book Frank galvanised photography for his generation, and has influenced, in some way, every other since.

Roth A., The Book of 101 Books: Seminal Photographic Books of the Twentieth Century pp.150-1; Parr, M. and Badger, G., The Photobook: A History vol.I p.247; Roth, A., The Open Book: A History of the Photographic Book from 1878 to the Present pp.176-7; Auer, M. and M., 802 photo books from the M + M Auer collection p.375.


---
Share this Product
---