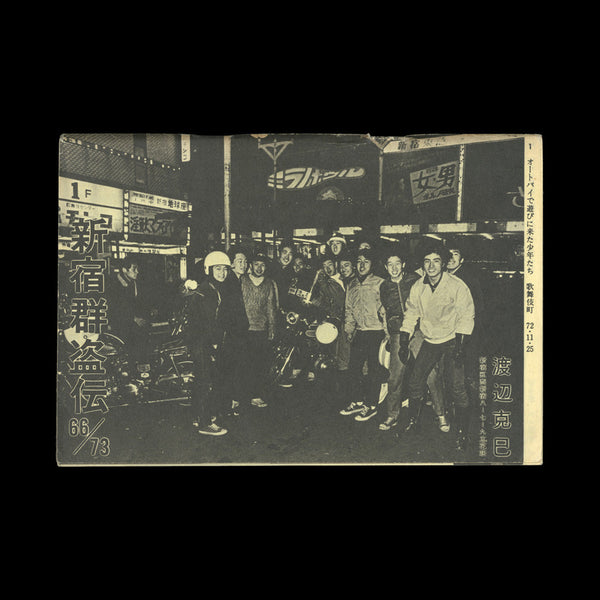 WATANABE, Katsumi. Shinjuku gunto den 66/73 [Shinjuku Thievery Story '66-'73]. (Tokyo: Bara Gaho-sha): [1973]. SIGNED
---
---
---
SIGNED
WATANABE, Katsumi.Shinjuku gunto den 66/73 [Shinjuku Thievery Story '66-'73].
(Tokyo: Bara Gaho-sha): [1973].
8vo (185 x 128 mm), pp.128. 128 black-and-white photographs printed in offset on yellow paper. Saddle-stapled self-wrappers; staples slightly recessed, very light creasing and rubbing. Signed by Watanabe on rear cover. A near-fine copy of a notoriously vulnerable book, scarce in such condition.
First edition, signed with a note stating stating his profession.
Shinjuku gunto den 66/73
was published in an edition of only 500 or 1,000 copies, reports differ, and half of those printed were lost to water damage. During the late 1960s and early '70s Watanabe photographed the prostitutes, transvestites, yakuza, and revellers in Kabukicho, the 'Blue Light' area of Shinjuku. He earned a living by selling his photographs to his subjects, many of whom were regulars in the area, when he saw them on subsequent nights out, offering three prints for 200 yen.
Watanabe's photographs constitute an important archive of Tokyo nightlife. Some are captioned with just the date and place, but in many Watanabe describes and identifies his subjects: 'Someone I happen to see often in Shinjuku', 'Someone who works at night', 'Someone wearing a wig', 'Someone who came in from Okinawa', 'People who have been drinking', 'Someone who works in the nude', 'Homosexuals', 'Someone who died', 'Someone who works in a Turkish bath', 'People jumping', 'Someone who likes photos of himself', '3 guys who have been drinking', 'Someone wearing silver lamé', 'Someone who wants to become a celebrity'.
802 photo books from the Auer collection 570; Japanese Photobooks from the 1960s and '70s 140-43; The Photobook: A History vol. III 221.
Click here to view all items in the 'Moral Tales for Young Artists' list
---
Share this Product
---