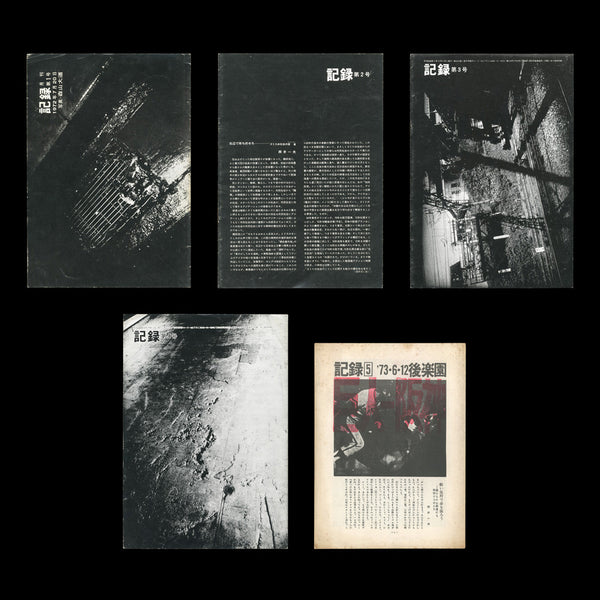 MORIYAMA, Daido. Kiroku [Record / Document] Issues 1-5. (Tokyo): [privately printed], (1972-3).
---
---
---
EDITION OF 300 COPIES PER ISSUE
MORIYAMA, Daido.
Kiroku [Record / Document] Issues 1-5.
(Tokyo): [privately printed], (1972-3).
5 vols. [1-4] (296 x 207 mm), pp.[16]; [12]; [12]; [12]. Black-and-white photographs. Kazuo Nishii contributes a text for issues 2-4. Saddle-stapled self-wrappers; light wear, oxidation to staples, pin marks to spines. [5] (263 x 192 mm), pp.20. Black-and-white photographs. Additional contributions in issue 5 from Kawamura, Hamada, Yokoyama, and Kazuo Nishii. Sewn self-wrappers, cover printed in black and red; light toning and foxing to covers, crease to bottom outer corner, short splits to head and foot of spine, pages lightly toned. A very good complete set of the first phase. Rare
First editions, limited to 300 copies per issue. Moriyama published three books in the first half of 1972:
Shashin yo sayaonara
[Bye, Bye Photography],
Kagero
, and
Kariudo
[Hunter]. In 1969, shortly before he joined the Provoke group, Daido Moriyama had considered starting his own photo magazine calledScandal, though he never realised the idea. The publication of
Shashin yo sayaonara
in particular left him feeling 'morally and physically adrift.' Soon afterwards he decided to revive his plans for a self-published magazine. He explained his intentions the June 1973 supplement of
Asahi Camera
, a text which was translated in
Setting Sun
.
'I realized that my photographs were extremely personal, so I made this magazine in order to have a space in which I can immediately reflect any idea whenever I have one and am eager to bring it to life, without troubling anyone else… I used to believe that photography should be mass media and mass-produced — and essentially I still believe that, but when I have doubts about the process of communication through mass media, I feel a need for mini media (e.g. a small publication).'
Between the Summer of 1972 and Spring of 1973, Moriyama produced 5 issues of
Kiroku
. The first four reproduce only his own photographs, and for issue 5 he changed the approach as well as the format, including texts and photographs by other contributors as well.
'It can be seen as a crystallisation of Moriyama's mature style and foundation of the work that was to follow… With
Kiroku
, Moriyama completes the transition — begun with
Nippon gekijo shashincho
[Japan: A Photo Theatre] — of letting go of "documentary" in favour of more personal or artistic interests that unashamedly priviege texture, light and mood over descriptive clarity or legibility. These new pictures are like miniature and quite subtle surrealistic experiences, momentarily drawing the viewer out of the chaos of daily life and into the realm of the tiny, imponderable happenings that are logically indecipherable, but nevertheless meeting places between the inner and outer realms of daily existence, and triggers of memory. As such,
Kiroku
can be seen as the most intimately personal and delicate photography Moriyama had done since his "Silent Theatre" series of nearly a decade earlier, and a different kind of inquiry into the mystery of contingency that had preoccupied him during the "Accident" project. Finally,
Kiroku
can be seen to mark the beginning of Moriyama's preoccupation with time, memory and the strange aura emitted by old photographs, that came increasingly to characterise his work after 1972' (Charrier 289).
In 2006 Moriyama revived the project with the assistance of Akio Nagasawa. Issues from the second phase of
Kiroku
are published loosely around a quarterly schedule, and retain the basic format of the first four issues.
Setting Sun: Writings by Japanese Photographers 95-104; In Numbers: Serial Publications by Artists Since 1955 224-227; P. Charrier, 'The Making of a Hunter', History of Photography, Vol. 34, No. 3 268-290.
Click here to view all items in the 'Moral Tales for Young Artists' list
---
Share this Product
---