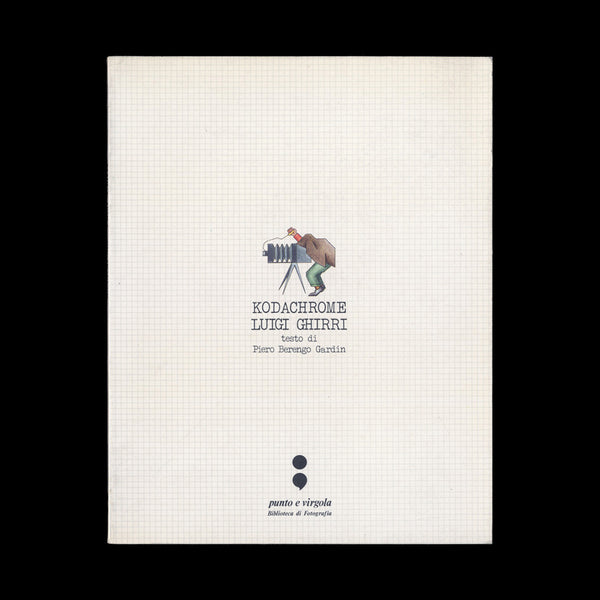 GHIRRI, Luigi. Kodachrome. Modena: Punto e Virgola, 1978.
---
---
---
'AN IMPORTANT STEP FOR COLOUR PHOTOGRAPHY'
GHIRRI, Luigi.
Kodachrome.
Modena: Punto e Virgola, 1978.
4to (271 × 210 mm), pp.104. 92 colour photographs, introduction by Piero Berengo Gardin, foreword by Ghirri, both in Italian and English. Printed wrappers, white, text in black, colour photograph and illustration; very lightly toned. Fine.
First edition. Luigi Ghirri was a pioneer of colour photography in Europe and
Kodachrome
is his best book. In his foreword Ghirri writes, 'The meaning I try to give to my work is that of the verification of how it is still possible to wish to face the way of knowledge, to make it possible at last to tell the real identity of man, of things, of life, from the image of man, of things, of life... but above all as a search for identity in a reality which is often tragically absurd in its cruel and brutalizing pretences and surrogates, which appear in the present, but which do not forget the past... An examination of the world and its conventional representation, the limits of reality and imagination.'
'The pervasive influence of Eggleston is evident, but Ghirri seems less of a realist than the American, and more interested in exploiting the artificiality of colour and exploring its paradox - that is both real and artificial at the same time... A modest [book] containing modest photographs that are more complicated than they seem at first glance,
Kodachrome
constitutes an important step for colour photography' (The Photobook 231). Scarce, particularly in this condition.
Parr, M. and Badger, G.,
The Photobook: A History vol.I
p.231; Auer, M. and M.,
802 photo books from the M + M Auer collection
p.613.
Click here to view all items in the 'Moral Tales for Young Artists' list
---
Share this Product
---