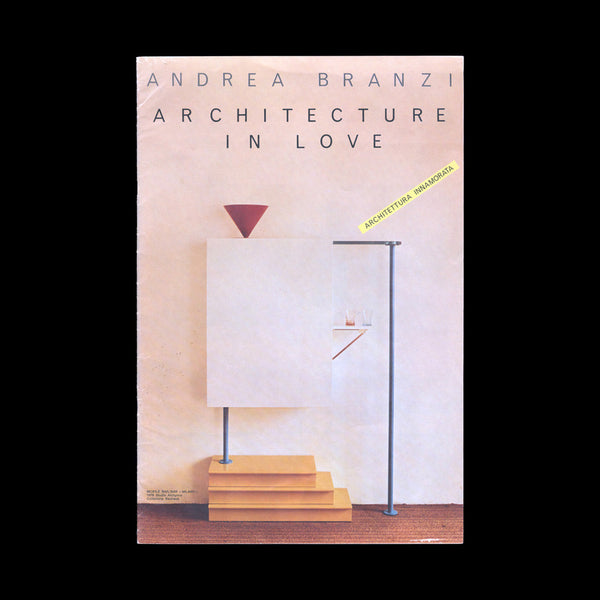 BRANZI, Andrea. Architecture in Love. Architettura Innamorata. [N.p., c.1980].
---
---
---
'GIVING RISE TO A UNIVERSE OF OBJECTS ON EQUAL TERMS'

(BRANZI, Andrea). 
Andrea Branzi. Architecture in Love. Architettura Innamorata.
[N.p., c.1980].
 
Folio (415 × 279 mm), pp.[28]. 23 black-and-white photographs, 8 black-and-white drawings, text in Italian and English. Photo-illustrated saddle-stitched wrappers; light handling marks, creases at spine. Very good or better.
 
First edition. Andrea Branzi was a key advocate of the Italian radical architecture movement, co-founding Archizoom Associati in 1966. Architecture in Love contains photographs and sketches showing designs for furniture, tableware, and interiors. It also contains two texts: 'The Chair as an Ideological Model - November 1977', and  'A Lost Grace - September 1979'. The first of which posits the notion that the linguistics of the Modern Movement, from its inception to the present, have revolved around models for chairs.  In the second he further develops this idea by suggesting that all architecture stems from the applied arts and questions the legacy of the Bauhaus. 'The chain which linked, in an optimistic progression, interior design to the building and the building to the city, has been broken off, giving rise to a universe of objects on equal terms, be they furniture or towns, that no longer stay together in a ratio of function and scale , but in a new ratio of similarity, regardless of function and scale; a ratio of likeness and contrast.'
 
Rare, only 1 copy on OCLC: Canadian Centre for Architecture, Montréal.
Click here to view all items in the 'Giving Rise to a Universe of Objects on Equal Terms' list
---
Share this Product
---