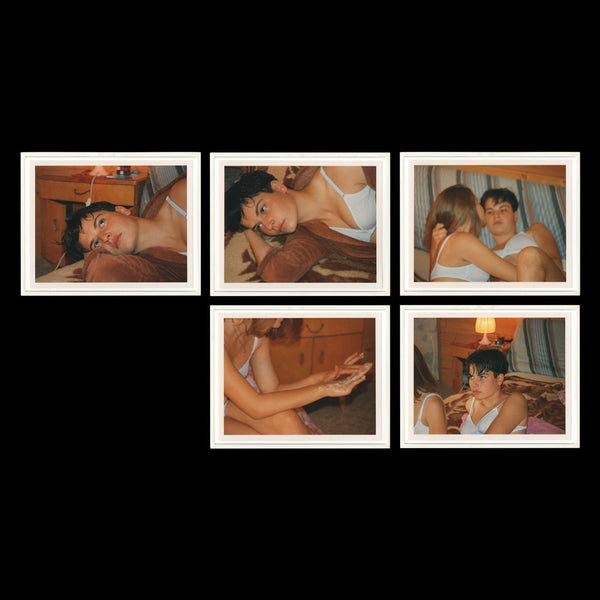 SCHORR, Collier. Die Zwei (Spring Break). 1997.
---
---
---
'A DENSE, ALLUSIVE EXPLORATION OF THE FLUID NATURE OF DESIRE'
SCHORR, Collier.
Die Zwei (Spring Break).
1997.
Set of five c-type photographs (315 × 391 mm / 12.4 × 15.4 in.) Image (252 × 328 mm / 10 × 13 in.). Framed; light wear to frames. Edition of 10.
Collier Schorr's work explores issues of adolescence, sexual ambiguity, and national identity. Often combining photographic realism with elements of fiction and staged youthful fantasy, her approach was described by Vince Aletti as having 'evolved into a dense, allusive exploration of the fluid nature of desire.' 'One of the roots of my work' she explains, 'was that I always wanted to steal into my brother's life. I always saw myself as his older brother, but I was his sister and I wanted to do the things that he got to do but didn't seem to want to do as much. I think I've tried to recreate those things… I'm creating a boy's world from the emotional centre of a woman' (Sollins 98). In the early 1990s Schorr, who was born and raised in New York, began visiting Schwäbisch Gmünd, a small city in Southern Germany which was where her partner grew up. For the following twenty years she spent her Summers there and set about making a portrait of the local population. Whilst working there she began to explore the idea of Germany's imagined and inherited history and her own Jewish heritage. From this point her work took on a number of dualities: Individualism and nationalism, history and identity, war and peace, good and evil, the self and others – all of which resonate throughout her work.
Schorr became interested in fashion photography during her teens, when she would tear out photographs from fashion magazines and pin them to her bedroom walls. In 1999 she contributed an editorial story to Olivier Zahn's Purple no.3. Enjoying the freedom and extended reach of commercial photography, she has continued to work for advertising and editorial clients including: Bottega Veneta, Comme des Garçons, Y-3, Brioni, Tod's, V Magazine, Self Service, Interview, The Gentlewoman, Fantastic Man, i-D, and Arena Homme Plus.
Schorr has exhibited widely in the United States and Europe and her work is represented in many public collections including the Museum of Modern Art, New York; the Whitney Museum of American Art, New York; the Jewish Museum, New York; and the Walker Art Center, Minneapolis. Sollins, Susan.
'Collier Schorr.' Art 21: Art in the Twenty-First Century, vol. 2. Ed. Susan Sollins. New York: Harry N Abrams, 2003; Aletti, Vince. 'Gender Blenders.' Modern Painters. February 2006.
Click here to view all items in the 'C'est pas du luxe' list
---
Share this Product
---