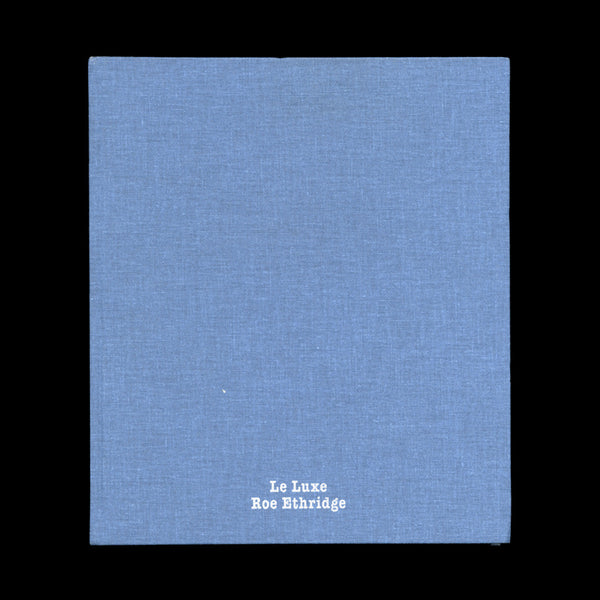 ETHRIDGE, Roe. Le Luxe. (London): (Mack), (2011). SIGNED
---
---
---
C'EST PAS DU LUXE SIGNED

ETHRIDGE, Roe.
Le Luxe.
(London): (Mack), (2011).
4to (287 × 249 mm), pp.[208]. 200 colour photographs. Red endpapers. Blue cloth-covered flexible boards, spine and sides titled in white. Signed by Ethridge in black ink to title-page. Fine.
First edition, signed copy. Between November 2005 and January 2010 Ethridge worked on a commission to document the construction of building for Goldman Sachs in Lower Manhattan on a site adjacent to the World Trade Centre. Photographs from this commission form the core of Le Luxe, Interspersed with which are personal images, editorial commissions, images from magazines, newspapers, and online sources.
With their technical perfection and impersonal neutrality, Ethridge's photographs sometimes have the feel of an agency's stock images. It is in a large part this indeterminacy that fuels Ethridge's fascination with photography: 'It's the same image whether it's illustrating a text or has a caption, on the walls or on a bus stop. I like the fact that photography is ubiquitous and polymorphic, that it can be for the specialist or the dilettante or sometimes both at the same time... The ability of photographs to function in different contexts becomes almost like a little bit of the burden of photography. It's great that it can do that, but sometimes it's hard to make judgments about images because they're so contextual. It's a nebulous area.'
Ethridge's photographs fulfil completely the criteria for universal application: they have the same impact whether they are used for editorial purposes in a magazine, as exhibits in a gallery or as advertisements. In keeping with this universality is the fact that he works in the classical genres - still lifes, landscapes and portraits... The neutrality of the photographs makes them seem cosmopolitan - a kind of astonished and astonishing perception whose only message is: "Look, there's all this to see' (Grosenick & Seelig).
U. Grosenick & T. Seelig (eds), Photo Art 138; The Photobook: A History vol.III 308
Click here to view all items in the 'C'est pas du luxe' list
---
Share this Product
---