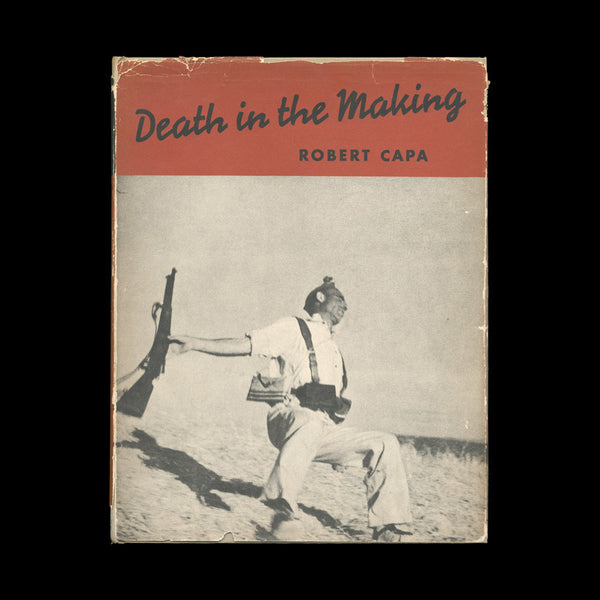 CAPA, Robert. Death in the Making… New York: Covici Friede, (1938).
---
---
---
CAPA, Robert.
Death in the Making…
New York: Covici Friede, (1938).

4to (279 × 215 mm), pp.[96]. 148 black-and-white photographs by Capa and Gerda Taro. Arrangement [i.e. layout] by André Kertész. Preface by Jay Allen, captions by Capa. Plain endpapers. Drab olive cloth-covered boards, titles in black; endemic toning to pages, nick to cloth at fore-edge. Black-and-white photo-illustrated dust-jacket, printed in red and black; spine lightly sunned, chipped at head and foot of spine, edges, and corners, lower portion of front panel split at spine-fold. A fine copy in an unrestored example of the rare dust-jacket.

First edition. In the summer of 1936, Robert Capa made the first of several trips to Spain to cover the civil war that had recently broken out there. He was accompanied by his lover Gerda Taro, a talented young photographer who was probably the first woman to photograph on the front line, she was also the first to be killed in the course of her work when she was accidentally crushed by a tank near Brunete in July 1937.

The layout of Death in the Making is by André Kertész, Capa's friend, mentor and fellow Hungarian. Shortly after he arrived in Paris in the spring of 1934, whilst living in near poverty, Capa met Kertész, who loaned him money, found him work, and taught him about photography. It was also in Paris at around this time that Capa met Henri Cartier-Bresson and David 'Chim' Szymin (Seymour).

The scarce dust-jacket features Capa's iconic photograph of a Republican soldier at the precise moment of his death. Death in the Making contains not just Capa's own photographs, including many that defined and revolutionised modern war photography, but also a number by Taro, and in many ways this book is her memorial, as Capa's eloquent printed dedication declares: 'For Gerda Taro, who spent one year at the Spanish Front, and who stayed on. Madrid, December 1937. R.C.'

Magnum Photobook: The Catalogue Raisonné pp.18-19; Sinibaldi, A. and Couturier, J-L., Regards sur un siècle de photographie à travers Le Livre (92); Fernandéz, H., Fotografia Pública: Photography in Print 1919-1939 p.76; Parr, M. and Badger, G., The Photobook: A History vol.I p.139; Auer, M. and M., 802 photo books from the M + M Auer collection p.266; Lefebvre, M., Guerra Grafica: Espagne 1936-1939 p.252.


---
Share this Product
---