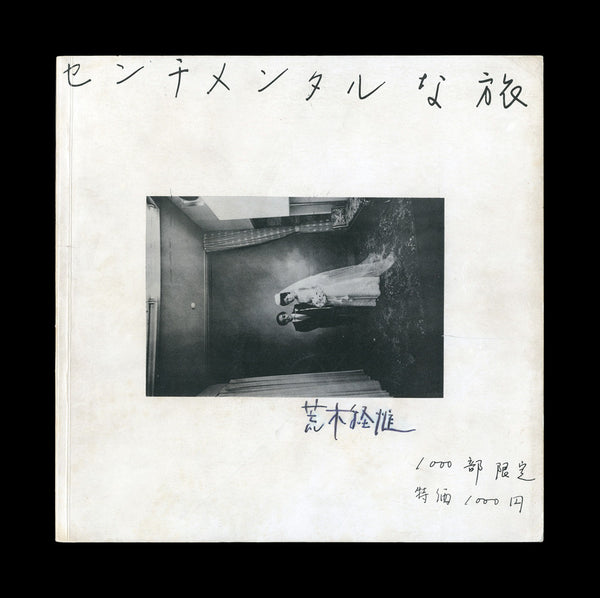 ARAKI, Nobuyoshi. Senchimentaru na Tabi [Sentimental Journey]. Tokyo: [Self-Published], [1971]. - SIGNED
---
---
---
ARAKI, Nobuyoshi.
Senchimentaru na Tabi [Sentimental Journey].
Tokyo: [Self-Published], [1971].

4to (238 × 238 mm), pp.[108]. 108 black-and-white photographs. Side-stapled with black-and-white photo-illustrated wrappers, white, text in black; foxing to preliminary and end pages, light soiling and spotting to covers, minor shallow crease and scratch to front, light staining to verso. Single leaf of green paper with facsimile of Araki's manuscript introduction tipped in at front; lightly worn at edges. Signed by Araki in black ink on front wrapper. An excellent copy.

First edition, a signed copy of Araki's most influential book, one of the most important photobooks of the twentieth century. Araki made these intensely personal photographs on his honeymoon. Initially he had intended for Sentimental Journey to contain no text, but after printing and on the request of a bookseller he wrote an introduction in which he rejects the falseness and insincerity of fashion photography, and compares his own work to the popular post-war literary form of the 'I' novel.

'Dear Sir, I cannot stand it any longer. It has nothing to do with the constant diarrhea that plagues me but rather more to do with the fashion photographs that surround us. I simply cannot stand all those anonymous faces. All those naked bodies. All those private lives and scenes that are essentially a pack of lies. This book has nothing to do with all those photographs by others that are filled with lies. This sentimental journey is filled with love and determination as a photographer. I'm not saying this simply because I photographed my own honeymoon therefore they are more truthful photographs. I have taken "Love" as my point of departure. I have begun from the "I Novel" - in my case it will most likely remain the "I Novel," - because I truly believe that nothing resembles the photograph more than the "I Novel." All I have attempted to do is to follow the course of my honeymoon. In any case, won't you please turn the pages. The old-fashioned grey-white tone is the result of off-set printing, rendering the journey that much more sentimental. I believe it is a success. I can only hope that you will feel the same. I have tried to make something out of the quotidian passage of the every day. Yours truly, Nobuyoshi Araki.'

Araki's exposure of this most intimate of occasions attracted much criticism in a country which still valued a strict code of behaviour, but ultimately by putting his private life forward for public scrutiny he paved the way for successive generations of Japanese photographers to work in a similar vein.


Roth, A. Provoke pp. 11-12; Roth A., The Book of 101 Books: Seminal Photographic Books of the Twentieth Century pp.206-7; Parr, M. and Badger, G., The Photobook: A History vol.I p.295; Roth, A., The Open Book: A History of the Photographic Book from 1878 to the Present pp.268-9; Auer, M. and M., 802 photo books from the M + M Auer collection p.527; Kaneko, R. and Vartanian, I., Japanese Photobooks of the 1960s and '70s pp.108-115.
---
Share this Product
---